The Surfin' Saints - one of the top surf-bands in Sweden. Playing classic surf-rock, rock'n'roll, rhythm & blues and famous movie themes, from the era of the 50's and 60's - all with a genuine retro-sound and style.

Influences: The Ventures, Dick Dale And His Del-tones, The Shadows, The Centurions, The Surfaris, The Atlantics, The Chantays, Ennio Morricone, Big Joe Turner, and many more.

The band is performing at various sorts of venues and occasions. Such as pubs, clubs, corporate events, private parties, festivals, beach- resorts, cruise ships, bars, restaurants, etc. A versatile party-band with a varied and catchy repertoire, for dancing, listening, or just a 'cocktail mode' - depending on the occasion.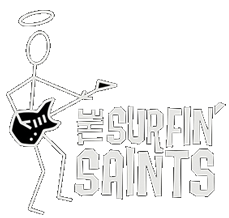 Band members:
Jan Sjöberg, guitar/vocals
Dante Enekvist, bass
Nicklas Dahlin, saxophone
Jonathan Westling, drums/vocals