The Surfin' Saints – una de las mejores banda de surf en Suecia. Tocan surf-rock clásico, rock'n'roll, rhythm & blues y temas famosos de bandas sonoras de películas de la era de los 50 y 60 – todo con un genuino sonido y estilo retro.

Influencias: The Ventures, Dick Dale And His Del-tones, The Shadows, The Centurions, The Surfaris, The Atlantics, The Chantays, Ennio Morricone, Big Joe Turner, y muchos más.

La banda toca en varios tipos de locales y ocasiones. Pubs, clubs, eventos corporativos, fiestas privadas, festivales, resorts de playa, cruceros, bares, restaurantes, etc. Una versátil banda para fiestas con un variado y pegadizo repertorio para bailar, escuchar o simplemente en 'modo cocktail' – dependiendo de la ocasión.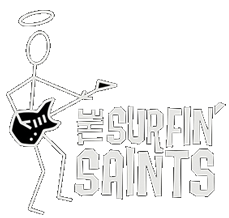 Miembros de la banda:
Jan Sjöberg, guitarra/voz
Dante Enekvist, bajo
Nicklas Dahlin, saxofón
Jonathan Westling, batería/voz